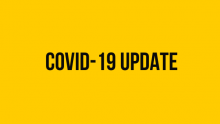 November 14, 2020-- A positive case of COVID-19 has been identified in an individual at Plainsview School.
Close contacts were telephoned by school staff and school division administration on Saturday evening. They were given information and direction on how long they should self-isolate. All school families were also contacted by recorded telephone call on Saturday evening.
The affected class has been closed until Friday, November 20th and will be able to return to school on Monday, November 23rd.
Plainsview School will be open for all other students on Monday, November 16, 2020